It is hard for people to lose weight because they can't sustain weight loss for very long periods of time. It's not that people can't lose weight through diet and exercise. It tends to be a cycle where people intermittently work hard at weight loss, with some success, only to relapse and gain all, if not more, of their weight back, only to do it again at a later time (hence the proverbial "roller coaster" of a person's weight loss journey). Surgery alone has been the only proven modality for long-term sustainable weight loss in these people.
Genetics plays a role in the ability to lose weight and keep it off. In this video I will explain how even a mother's weight during pregnancy will affect a child's likelihood of becoming overweight.
Continue Learning about Weight Loss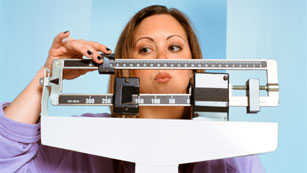 You know that to lose weight you need to burn more calories than you take in. There are only two ways to do this: reduce the number of calories you take in or increase the amount of calories you burn each day. Once you learn to do ...
this, it will be easier to maintain your weight.
More