Extreme weight loss is losing to much to fast. When that happens your body doesn't have time to adjust to the disappearing pounds and may not discriminate between fat and muscle. This kind of weight loss may slow your metabolism down which can put your body into starvation mode and eventually cause you to gain instead of lose weight. Extreme weight loss does not give you time to make the necessary lifestyle, physical and emotional adjustments necessary to keep the weight loss permanent. Make your primary goal to get healthier while losing weight as a secondary goal and take advantage of all the Sharecare experts in nutrition, fitness and weight loss to guide you along your road to good health.
People who go to extremes to lose weight quickly often impair their fat metabolism by cutting too far back on calories, which forces the body into starvation mode. When this happens, the body holds on tightly to fat and burns up muscle tissue for energy -- two counterproductive events to fat loss, energy conservation, and overall health.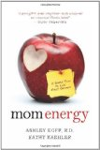 More About this Book
Mom Energy: A Simple Plan to Live Fully Charged
       From celebrated dietitian Ashley Koff and fitness trainer to the stars Kathy Kaehler comes Mom Energy, an exciting new way for moms to tap into their own natural and renewable sources of...
Continue Learning about Weight Loss