You can't go by the scale to use as a tool whether or not you are losing weight. If you are in any strength program and are eating right, quite often we see individuals gaining lean body mass (muscle). This shows in the clothes fitting loosely. Therefore, you should track your bodyfat percentage to see whether or not you are losing. The worse way to lose weight is to lose muscle. A drop in bodyfat should be the goal in losing.
Do you notice a change in your body composition? Are your clothes fitting differently? Sometimes when we begin eating right and exercising, we notice changes in our body composition and not the scale. This is a good reason we should not rely on the scale alone to track our progress.
Continue Learning about Weight Loss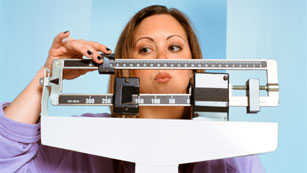 You know that to lose weight you need to burn more calories than you take in. There are only two ways to do this: reduce the number of calories you take in or increase the amount of calories you burn each day. Once you learn to do ...
this, it will be easier to maintain your weight.
More