By simply calling it out for what it is, you will no longer blindly and unconsciously keep indulging. You will be aware, alert to the denial that wants to repress any effort to change. When I first wanted to stop eating meat -- for reasons of health and ethics -- I did battle with my urges. I wanted to be a vegetarian, but I also wanted that taste of steak in my mouth. Or the tuna sandwich wolfed down with a root beer. I thought, "Wow, I can't seem to stop myself from eating this stuff, even though I know it's not right." So I labeled it. I thought, "I must be addicted." Which led to, "I really don't want to be held hostage by any addiction or attachment. I need to handle this. If I don't handle this, I will not rise to my best potential."
Continue Learning about Weight Loss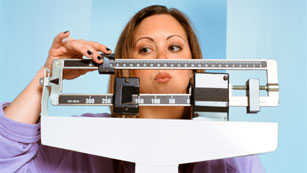 You know that to lose weight you need to burn more calories than you take in. There are only two ways to do this: reduce the number of calories you take in or increase the amount of calories you burn each day. Once you learn to do ...
this, it will be easier to maintain your weight.
More