If you are overwhelmed by the amount of weight you need to lose, focus on the small improvements. Stop weighing yourself daily or weekly. An increase in physical activity, even as little as 15 minutes daily, can improve your health gradually. In time, 30 minutes daily will be easier, diet modifications will be more rewarding and the overall benefit of an overall healthy lifestyle will become apparent.
If you're overwhelmed by the amount of weight you need to lose, don't worry about the numbers or how fast they come off. The process of change begins with lifestyle—eating healthier and being more active. In our program, we guide our patients through that process. We hold their hands and make sure that they don't get off track. As long as they follow our process for weight loss, the weight will come off.

Bariatric surgery is not a quick fix—it requires some work. The results will come slowly. Just because you can lose 100 pounds in six months doesn't mean you will do well long-term. The surgery helps you lose the weight, yes, but if you don't change your lifestyle and the way you eat and exercise, then you'll lose 100 pounds in six months, but gain it all back.
If you are overwhelmed by the amount of weight you need to lose, take your weight loss journey one day at a time but do not micromanage your weight loss by weighing in every day. Treat your weight loss like the stock market… if you watch it daily you'll go mad, but if you check it weekly and see a trend over a longer period of time that's moving in the direction you desire, you're succeeding!
Losing weight at any age can be difficult, but it is worth it. Don't be overwhelmed if you have a lot of weight to lose. Set a realistic goal for yourself, like 5% of your body weight to start, and consider getting help from a diet program like Weight Watchers.

Losing just a few pounds around your waist can help reduce your risk of developing diabetes.
Continue Learning about Weight Loss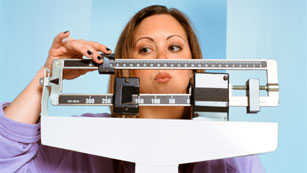 You know that to lose weight you need to burn more calories than you take in. There are only two ways to do this: reduce the number of calories you take in or increase the amount of calories you burn each day. Once you learn to do ...
this, it will be easier to maintain your weight.
More