A healthy functioning liver makes for a healthy functioning metabolism that can properly process sugars and fats. The toxins from within our bodies and from our environment both contribute to obesity.

So getting rid of toxins and boosting the natural detoxification system is an essential component of long-term weight loss and a healthy -- energy-generating -- metabolism. We don't want to sound any alarms or scare you about the fact that we all live in a toxic world today. We have become a society where we no longer have to worry so much about things such as plague, famine, and poor sanitation. We now suffer from the products and by-products of our own technological advancements that provoke poor health and chronic illness. Myriad products we meet daily can harbor toxic substances that our bodies absorb little by little over time -- from mattresses and mouthwash to carpets, clothing, and cosmetics.

And a lot resides in our food where preservatives, additives, coloring agents, pesticides, and other chemical residues hide. It's been argued that the reason fat cells bear the brunt of storing toxins is because our bodies were never designed to protect themselves from these toxins. So instead of the body being able to efficiently eliminate them, it throws them into fat cells much like you throw clutter in the garage or basement to deal with later. You're not quite sure what to do with it, so you store it somewhere that's out of sight (and temporarily out of mind). But as the toxins accumulate, they begin to have nasty effects on your body's functioning. You can begin to experience health problems from minor ones such as allergies and endless colds to serious illnesses such as cancer and brain disease. Lack of energy will be just the tip of the iceberg.

Another way to look at this is to consider what happens when the body tries to process toxins that the liver cannot easily break down. The toxins that are fat soluble will be sent to your fat cells, so the more toxins you have to store away, the more fat tissue your body needs to store them (and use precious energy to do so). And the fatter you become.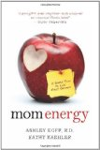 More About this Book
Mom Energy: A Simple Plan to Live Fully Charged
       From celebrated dietitian Ashley Koff and fitness trainer to the stars Kathy Kaehler comes Mom Energy, an exciting new way for moms to tap into their own natural and renewable sources of...
Continue Learning about Weight Loss