In my opinion, food addiction is defined by a preoccupation with food in every way; it is the key tool by which a person handles their emotions, be it positive or negative. Watch as I explain the key facets of food addiction.
Almost every person eating the standard, toxic American diet develops strong physical addictions. Discomfort after stopping an addictive substance is called withdrawal. Humans have a tendency to want to avoid discomfort. They continue their toxic habits to avoid unpleasant withdrawal symptoms. When we discontinue consuming healthy substances, such as broccoli or spinach, we do not experience discomfort. We feel nothing. Only unhealthful, toxic substances are addicting, and, therefore, these are the only substances that cause discomfort when you stop consuming them. Their addictive potential is proportional to their toxicity.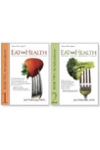 Psychologist Dr. Katie Rickel discusses food addiction. Watch Dr. Rickel's video for tips and information on mental health and eating behaviors.
Watch as Dr. Judi Hollis discusses food addiction.
Food has become a drug of choice in many people. In my experience it is often used to self medicate depression, loneliness, anxiety and in general a sense of emptiness. Although, in some cases, it is used to create physical (body size) boundaries due to a history of abuse. Food addictions can be difficult to overcome because food is almost always available and moderation is required with this addiction. Due to the desire to activate the pleasure center and have serotonin released to create a sense of well being, replacement therapy (healthier food choices) can be be helpful in developing moderation.
When someone hides or covers up how they feel by overeating despite sometimes catastrophic consequences in their health and relationships with others.
Food addiction involves craving food for the purpose of pleasure. This phenomenon is comparable to drug or alcohol addiction. Food addicts become fixated on food and associate eating with positive experiences, such as comfort. Food addicts also eat even though they are aware of the negative effects, such as excess weight gain.
Continue Learning about Weight Loss