Waist-training is controversial for many reasons, one of which being the associated risks of frequently wearing a corset, or wearing one too tightly. These include risks of acid reflux, vomiting after eating, bruising internal organs, and more.

Another question I would like to pose to those considering waist-training is, what are the benefits? There are no proven results in regards to weight loss, and there is no reason why anyone should believe that your shape will change through wearing a corset. Waist-training accomplishes nothing in terms of building up muscle tissue, nor in burning fat.

There are no shortcuts to effective, permanent weight loss. The three pillars of diet, exercise, and sleep must be in place to achieve a healthy figure and lifestyle.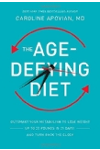 More About this Book
The Age-Defying Diet: Outsmart Your Metabolism to Lose Weight--Up to 20 Pounds in 21 Days!--And Turn Back the Clock
Age slowing down your metabolism? Not anymore!Internationally renowned weight-loss expert and New York Times bestselling author Dr. Caroline Apovian has developed an innovative program that outsmarts the body's aging processes and reverses the metabolic clock. By combining the metabolism-boosting effects of her unique take on intermittent fasting-an innovative approach that will leave readers feeling full, not hungry-with targeted strength training, readers can lose up to 20 pounds in 21 days while they reshape their bodies and take back their youth.Reboot - one week to jumpstart weight-loss with Super Smoothies, Super Soups, and delicious whole food meals that rekindle the metabolic fire.Recharge - two weeks to keep metabolism running in high gear, burning more fat and building more muscle. Revitalize - a powerful blueprint that keeps the metabolism young and keeps age-defiers slim for life!
Health risks of waist training, or corset training: Compressing the internal organs, squeezing the stomach, suppressing the colon, and decreasing circulation. Watch as bariatrician Nicole Florence, MD, explains these health dangers and her concerns.
Continue Learning about Weight Loss