There are tools available that can help you track your weight loss easily.
The USDA launched SuperTracker 11 months ago to help millions of Americans eat healthier, reach their exercise goals, and manage their weight.
SuperTracker can help you create a customized diet plan, monitor your food intake, track your physical exercise, and even lets you interact with a virtual coach who will give you tips and feedback related to your weight loss goals.
Some users of SuperTracker claim they've lost as much as 80 pounds using the tool! SuperTracker can be found at ChooseMyPlate.gov.
Find a system for tracking, preferably using more than one measure. There is much debate about which measures matter most, and at times progress can be seen in one area when we seem to plateau in another. Whether you keep track in a journal, on a chart, on a calendar, or using a phone application, find a system that works for you and log daily or weekly results.

Consider tracking measurements and BMI, in addition to weight. If you lift weights, write down the weight you use and how many reps you do, you will be able to notice an increase in strength. If you run, pay attention to distance and time to notice an increase in endurance and/or speed.

Sometimes others can be our best mirror. Pay attention to what others are saying to you. Even if you do not see what they see, they may be right. Ask a supportive friend or family member (who is not depressed) to look for progress towards your goal and provide you feedback.
Keep a record of your progress in a notebook or on a calendar. If you start to feel discouraged because you're still not where you want to be or because you've slipped up or you've hit a plateau, look over your notes. Notice the progress you've made and you'll feel motivated to continue on your path toward weight-loss success –– at all costs! This is a really important step not to be neglected. Make little notes about how you made good choices at the grocery store, about how you ate only one Oreo instead of a whole bag, how you did your cardio exercises three times this week. Acknowledge the things that were less than desirable and forgive your transgressions. Make a commitment to stick to the path and journey onward. If you fall down, simply take a deep breath, get up and start over. Remember, you didn't gain the excess weight overnight, so losing it will likely take more than one day.
I know your question is about weight loss but I wanted to add a few more things.
The suggestions by Dr. Oz and NASM are great but also do not limit it to just weight
Do body circumference measurements such as your waist, hip, thigh, bicep, ect.
Measure your body fat percentage if available
Take pictures
If you are exercising look at improvements in performance
As mentioned the scale can have massive fluctuations based on fluid retention or lack of retention. The scale is an indicator but it is not the only one. If the scale is not moving there is a possibility that you are still making progress. Perhaps you are gaining muscle and losing fat.
If you not losing weight but losing inches, if you are not losing weight but your body fat percentage is going down, if you are not losing weight but you look different in pictures, if you are not losing weight but your performance is getting better then you are improving.
Almost always the scale will change in relation to the above factors, my point is to just not use the scale. Use other factors, understand about weight fluction due to fluid retention and make sure to look at the big picture over a number of factors.
Also make sure to have a trusted fitness professional that can monitor all of these factors and give you clear and conciese feedback based on how you are doing.
Your body's weight can fluctuate over the course of a day due to fluctuations in fluid levels due to food and salt intake and hydration levels. It is because of this that nutrition experts recommend only weighing yourself once a week at the same time each week under as similar of conditions as possible. For example, weighing yourself first thing upon rising every Monday morning will give you a better idea of the course of a month if you've lost weight, than will weighing yourself daily. Weighing yourself once a week will give you a better idea if your current weight is due to dietary changes instead of daily fluctuations in weight.

Instead of tracking your weight by a single goal weight of, say, 145 pounds, what you're going to do is pick your weight class. You're going to pick a range of weight that's comfortable for you—say, 142 to 148 pounds (or 31 to 33 inches of waist size). When you divulge your weight to someone (not that anyone will be asking), it should never be in one number; you need to think of your weight as an ideal range. For one thing, that allows for the natural fluctuations that occur. For another, it also does something even more crucial to your psychological success: it stops you from focusing on some arbitrary number that promotes the idea of all-or-nothing success or failure. And it puts your mind in the right programming mode—to remind yourself that your body is supposed to change.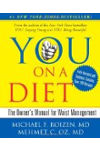 Continue Learning about Weight Loss