Psychologist Dr. Katie Rickel shares some tips for someone struggling with food addiction. Watch Dr. Rickel's video for information on mental health and eating behaviors.
Watch as Dr. Mike Dow explains food addiction and provides some tips for someone who may be struggling with food addiction.


For someone addicted to food it's not just about putting the food down.
– It's about having to tell friends and family "no."

– It's about finding new ways to soothe themselves.

– It's about wanting to share a meal with family members even when it involves unhealthy choices.

– It's about the quick pleasure a busy mom gets from junk food in the midst of a busy day where other quick fixes are not accessible.

– It's about cruel comments about the pounds they have put on by "well meaning" friends.

– It's about wanting to pick up a food that reminds them of time spent with a recently deceased parent or a childhood memory of snuggling in bed with ice cream and mom.
Continue Learning about Weight Loss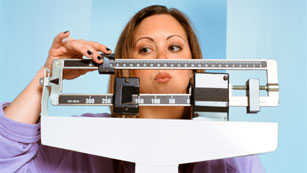 You know that to lose weight you need to burn more calories than you take in. There are only two ways to do this: reduce the number of calories you take in or increase the amount of calories you burn each day. Once you learn to do ...
this, it will be easier to maintain your weight.
More