Women have more difficulty losing weight than men because their metabolism requires fewer calories for maintenance. Watch bariatric surgeon John L. Coon, MD, FACS, of Riverside Community Hospital, explain how many calories to cut for weight loss.
Men tend to lose weight faster than women. In this video, Dr. Oz examines the reasons why women don't lose weight as fast as men.




Continue Learning about Weight Loss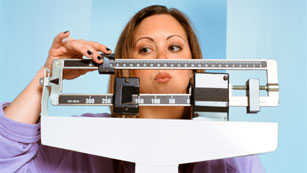 You know that to lose weight you need to burn more calories than you take in. There are only two ways to do this: reduce the number of calories you take in or increase the amount of calories you burn each day. Once you learn to do ...
this, it will be easier to maintain your weight.
More