You can lose weight by eating a healthy diet and calculating how many calories that you need to maintain your weight at its current level. Then you need to decrease your calories. If you decrease your calories by 500 a day you can expect to lose approximately one pound a week.
Even though you have pain, you might want to consider very light exercise such as yoga stretching with an instructor or even walking in a swimming pool or hot tub. Then you could burn 250 calories a day and reduce your calorie consumption by 250 calories.
Continue Learning about Weight Loss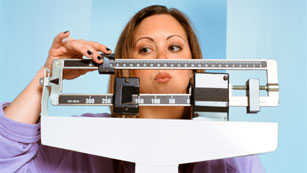 You know that to lose weight you need to burn more calories than you take in. There are only two ways to do this: reduce the number of calories you take in or increase the amount of calories you burn each day. Once you learn to do ...
this, it will be easier to maintain your weight.
More