To gain weight whether it be muscle or fat the body needs to consume more calories than it burns. If the body is building lean muscle mass you are eating slightly more calories than you burn to give you enough energy and raw material to build new muscle tissue. Pursuant to this net calorie intake there is no need for your body to tap into its calorie storage tissue fat to get calories for basic functions. Once you have gained the amount of lean muscle you wish to gain you can then go into a mild calorie deficit and continue to weight train and slowly lose the fat stores you wish to lose.

Consider a pound of feathers and a pound of iron: Both weigh the same, but the feathers take up more space. The same is true of fat. Muscle is much denser than fat, so as you increase muscle mass, you become heavier because your body is denser.

Continue Learning about Weight Loss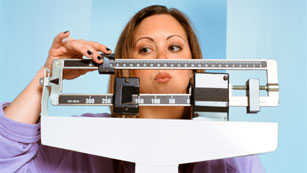 You know that to lose weight you need to burn more calories than you take in. There are only two ways to do this: reduce the number of calories you take in or increase the amount of calories you burn each day. Once you learn to do ...
this, it will be easier to maintain your weight.
More