Losing weight for some people can be more difficult than for others. We all have to recognize, though, that in the absense of all food we all lose weight. There should be no doubt in your mind that if you stopped eating altogether you would lose weight. I of course am not recommending this, just stating as a point of reference. Each of us has metabolic needs. If our heart is beating and we are breathing and our eyes, ears, digestive system, etc. are working then we need calories to run these things. Simply put you need calories to live. If you eat less than what you need on a daily basis you will lose weight. The trick is finding out how many calories you need to stay the same weight and finding out how many calories you are actually eating. I promise you this, though: if you eat less calories than your body needs on an ongoing basis, you will lose weight.
More than five million women have a condition that won't let them lose weight. In this video, Dr. Oz shows viewers how to test themselves for this condition.



Continue Learning about Weight Loss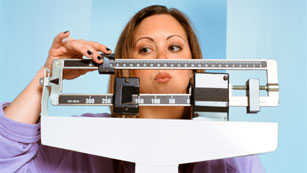 You know that to lose weight you need to burn more calories than you take in. There are only two ways to do this: reduce the number of calories you take in or increase the amount of calories you burn each day. Once you learn to do ...
this, it will be easier to maintain your weight.
More