When it comes to eating and exercise, change is mandatory if you want to see weight-loss results. Before you can embark on change you have to be aware of the old habits that have led you to this undesirable place. Understanding your habits can help you to change and improve them. You must have the desire and motivation to change. The reasons have to be compelling. Don't start a program unless you're 100% committed to living a better life. If, throughout the process, you feel you're less than committed, don't pack it in. You have good reasons for wanting to lose weight; remind yourself of them.

You have to realize that your actions have consequences. You have a greater risk of disease such as diabetes, heart attacks, stroke or certain cancers if you continue to overeat and remain a "couch potato." You have to be aware of the forces around you that allow you to continue bad health habits. Be honest with yourself. If you have no medical reason making it difficult for you to lose weight, the good news is that you can make positive changes starting now. Remember to sweat the details.

I suggest that you choose one habit at a time that you'd like to change, and go about it systematically. Small failures are just part of the equation and should be expected. Don't toss in the towel; just get back up right after you've made the mistake and keep moving forward. Enlist a support system to help you when the going gets rough.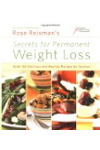 Continue Learning about Weight Loss