Two effective strategies to keep yourself on track with weight loss are to write encouraging notes to yourself to keep you focused and positive, and to notice and praise yourself every time the scale shows an improvement. Negative self-talk, such as tacking pictures of overweight people on the refrigerator to make you feel guilty, is not effective. It's better to note and praise yourself for your efforts and your successes.
Continue Learning about Weight Loss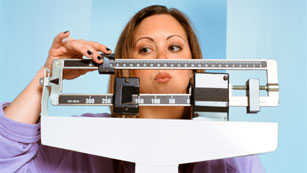 You know that to lose weight you need to burn more calories than you take in. There are only two ways to do this: reduce the number of calories you take in or increase the amount of calories you burn each day. Once you learn to do ...
this, it will be easier to maintain your weight.
More