There are specific stages to making a change like weight loss, which indicate when a person is ready to take action. In this video, I will explain the stages and how you can tell if you're ready to make a lifestyle change.
Before you can embark on the weight-loss journey, you have to know if you're truly ready. Are you ready to eat differently and exercise moderately for life -- not just for the next six weeks? This may be the toughest issue. If without any hesitation your answer is yes, you're ready to begin.

If you're hesitating, you might be too comfortable with your life the way it is, so you come up with every excuse under the sun not to start this new journey. Guess what? You're not ready yet. But take a good look at yourself and your health and realize that staying in this comfort zone is only going to make your health worse. Time passes quickly and the longer you stay in an unhealthy state, the more difficult it is to change and the more damage you can do to your health.

I remember once discussing with a psychologist my frustration at constantly having to tell my children to study or get organized. He introduced me to the concept of an "internal mechanism." To succeed, you have to take responsibility for your choices and actions. Think of this as implementing your own internal mechanism. It can be a gauge that helps you to live a healthier life and doesn't allow you to continue with a lifestyle that's out of your control. Everybody wants someone or something to blame for their problems. It's human nature. If there are no medical issues and you insist on blaming external factors such as genes, metabolism, work or family then you'll never lose weight for life. Look only to yourself to solve your weight issues. You have to hold yourself responsible for the changes you're about to make. Understand what the barriers or factors are and work on them. You can change only if you want to.
Don't:
Give in to the excuses that prevent you from living well. Examine each excuse and come up with a solution or strategy to counteract it.
Label yourself as a failure or as someone who can never be fit and healthy.
Give up when you become frustrated. Dealing with the frustration head-on will allow you to get past it.
Once you've tasted success you won't ever want to lose that feeling. The benefits of health -- feeling better, younger and more energetic -- will highlight your life. When I start my days feeling healthy and slim, and fitting into my clothes, I'm all charged up!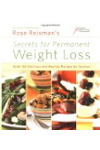 Continue Learning about Weight Loss