Interpersonal relationships affect weight-loss efforts. It would be ideal if everyone were fully supportive all the time. But this may not always be the case, so become aware of individuals that end up defeating weight-loss efforts. The difficult part is that some people traditionally express their love through food. Be aware and, when it happens, be honest. Let friends and family members know about important changes to personal eating habits. If it's necessary to eat socially to avoid hurt feelings, take a small portion.

Employers tend to reward their employees with food -- think pizza party -- or sometimes they will have food waiting at the office so employees don't have to go out. This can sabotage even the best intentions.
Continue Learning about Weight Loss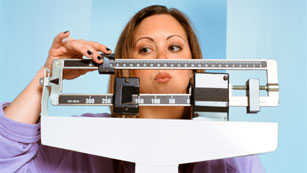 You know that to lose weight you need to burn more calories than you take in. There are only two ways to do this: reduce the number of calories you take in or increase the amount of calories you burn each day. Once you learn to do ...
this, it will be easier to maintain your weight.
More