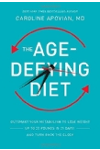 This is a great question, and one that all serious dieters will eventually face. There are many different, effective answers to this question, so I will just recommend three suggestions.
1.)
Find support.
Everyone needs help to achieve difficult goals. I have seen this pattern again and again over the course of my medical career. Those who have a strong support system lose more weight than those who do not. Attend weight loss support meetings, start a club, team up with some close friends, or consider joining my online
weight loss community
. Those friends will help keep your motivation high during crucial moments.
2.)
Get enough sleep
. Believe it or not, getting enough sleep is as important to weight loss as dieting and exercise. Not getting enough (7-9 hours), causes your body to produce more hunger hormones, decreases your impulse control, and causes your metabolism to slow down.
3.)
Set small, realistic goals
. While it's great to have a big picture goal to work towards, you may become discouraged with how much time and energy it takes to feel as though you've accomplished something. Instead, set smaller goals for yourself in terms of diet and exercise. Maybe this week, you'll set a goal of increasing your physical activity by 20 minutes per day. Next week, you'll switch from white flour products to whole wheat ones.