I have one basic rule: you must never reach the point of being hungry. That's where all the problems start. When you starve yourself or go for long periods without fueling your body, you crave food energy so badly that you often make up for it by eating poorly and too much. Better to eat enough of the right foods so that you're energized. You won't be able to do this perfectly every day, but try to follow the five simple guidelines below. Read them through slowly and ask yourself if you're following them now.
Eat plenty of complex carbohydrates: whole grains, fruits and vegetables.
Eat moderate amounts of lean protein: chicken, fish, lean beef and tofu.
Eat fewer fats and choose healthier ones, like olive, canola, grapeseed and peanut oils.
Eat small meals and snacks throughout the day, so you never get hungry. I graze all day long.
Drink at least eight glasses of water each day. Have a bottle with you at all times to make it easier. Water helps your metabolism and helps in the weight-loss process.
This plan is the way my family and I maintain our healthy body weights. Everyone has heard these principles over and over again, but I guarantee that, for most of you, if you practice these basic rules daily your weight issues will be resolved. This is your journey to a healthy weight for life. For many of us, it's quite difficult to put what we already know into practice.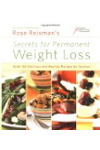 Continue Learning about Weight Loss