There are many of us who just don't benefit from group mentality. These people would rather exercise on their own and diet on their own. Many have succeeded and just as many have failed.

If you're a motivated goal-oriented person with a great deal of self-direction, you can succeed. You'll need the "ammunition" of nutrition and food education before you begin. This means doing research on your own so you know that you're losing weight in a healthy manner.

There are no costs or enforced meeting times when you go it alone. You don't have to bare your emotions to a group of strangers. On the flip side, there's no one that you're answering to, which means you can allow yourself to give in to the many excuses that make dieting so difficult. And there's no one who has had similar issues to sympathize with your setbacks if you're in the mood to discuss them.

My advice is to set up a network that will work for you. You have to tailor the strategy to fit your preferences. If going it alone hasn't worked for you after many attempts, wake up and join a group or get on a diet website.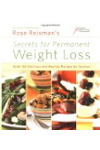 Continue Learning about Weight Loss