This is possible primarily by staying physically active during the weight loss period, by reaching a specific metabolic state known as ketosis and by use of certain medications which help control the "appetite center" in the brain.
By avoiding certain food felons (saturated fat, added sugars and syrups, trans fats, and any grains other than whole grains); increasing healthy options like fruits and veggies, whole grains, and lean proteins; and watching portion sizes (try a meal measure as shown on the Dr. Oz show), you'll be able to lose weight and keep it off for the long term without feeling deprived. And using your pedometer to make sure that you step 10,000 steps a day -- every day -- is essential!
Continue Learning about Weight Loss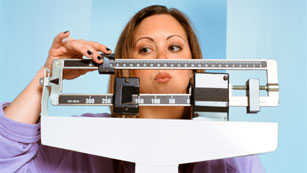 You know that to lose weight you need to burn more calories than you take in. There are only two ways to do this: reduce the number of calories you take in or increase the amount of calories you burn each day. Once you learn to do ...
this, it will be easier to maintain your weight.
More