First, there is no real way to "spot reduce," but there are methods to help reduce the size of your thighs. The majority of people have issues with their diet, leading to weight gain, which can often be in the thighs. Increasing your consumption of fruits, vegetables, whole grains, low or non fat dairy, lean meats and healthy fats, and decreasing your consumption of processed foods and sugary beverages, can help you to lose weight. Additionally, performing exercises such as pilates, yoga, squats, lunges and leg lifts can help to "tone" your muscles. Keep in mind that if you add muscle without reducing your body fat, you may not see a decrease in your thigh size. An approach combining diet and exercise is best to reduce your thigh size.
There are basically three things that heavily contribute to the size of your legs. The first is simply the size of your skeleton. If you are large boned you will tend to have a large pelvis and large leg bones, ankle bones etc. This should carry throughout your body though and be somewhat consistent. The second is body fat. This can totally be controlled by diet and exercise. If you are carrying too much fat you need to start a smart calorically controlled eating program to allow you to reduce body fat which will significantly impact the size of your legs. The third is the amount of muscle you are carrying. If by chance you spent the bulk of your life in heavy resistance training programs you might be carrying a lot of muscle and this of course can contribute to leg size. There are also some health reasons that your thighs could be larger than what you are comfortable with like a lower body edema. This is a medical concern that you would talk to your doctor about. In most cases though reduction of body fat will solve the problem and this is simply a calorie issue. Eat less lose some weight and see if your leg issues start going away...
Continue Learning about Weight Loss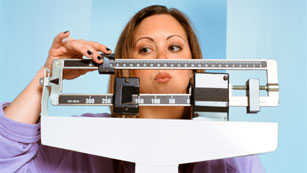 You know that to lose weight you need to burn more calories than you take in. There are only two ways to do this: reduce the number of calories you take in or increase the amount of calories you burn each day. Once you learn to do ...
this, it will be easier to maintain your weight.
More