Crash diets and fad diets that are designed specifically to drop weight quickly, are not healthy. Unfortunately they're the diets people turn to when trying to lose weight to: Fit into a wedding dress, fit into a bathing suit, go on a cruise, go to a reunion, etc. While people have been known to lose weight, these diets are unsustainable and can create a yo-yo effect of gaining more weight once returning to your regular diet.
That being said, starting a healthy fitness routine and embracing healthy eating habits - healthy lifestyle changes - before the wedding, will not only help you fit into the wedding dress, but will help stabilize emotions and reduce stress levels. These are benefits that the whole wedding party will enjoy, and will get your marriage off to a great start!
The obsession to look "perfect" for just one day all but dooms the dieters to a lifelong weight battle. There have been multiple studies that suggest people gain weight once they are in a relationship, which makes sense on multiple levels. At the most basic "rule of the jungle" level – you no longer need to shake your tail feather to attract a mate, so that feather can get big. Couples tend to eat together and tend to eat what the other eats, often putting women at greater risk of gaining weight. Folks get pregnant and gym time gradually gets replaced with "together" time.
Making weight loss about a 1 day goal often means people take radical steps to lose it, including cutting out food groups, exercising excessively, diet pills, surgeries, relying on too low calorie counts – in other words, creating unsustainable programs. Once the goal is reached, the photos taken, the reunion passed, or the honeymoon completed, there is a sense of "Now what?"
Continue Learning about Weight Loss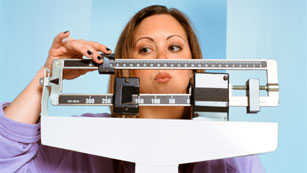 You know that to lose weight you need to burn more calories than you take in. There are only two ways to do this: reduce the number of calories you take in or increase the amount of calories you burn each day. Once you learn to do ...
this, it will be easier to maintain your weight.
More