Water is not a magic substance that can flush fat out of the body and you should not be misled to believe that drinking water will help you lose weight.
The only way to lose weight, is to take in fewer calories than the body needs. However, an adequate water supply can support weight-loss efforts because plain water has no calories, and therefore can be used to displace high calorie beverages.
Weight Watchers offers a comprehensive approach to weight loss that can help you reach your goals.
Learn more about Weight Watchers and how to join.
People who want to lose weight need to ensure that they are drinking adequate amounts of water or other low- or no-calorie beverages. In many cases, a hunger pang can be relieved by simply drinking a glass of water. Why? It may be because mild dehydration creates a sensation that is perceived as hunger. It may also be because water added volume to the stomach. However, since water and most other beverages are quickly absorbed, they reduce hunger only briefly and have no prolonged impact on satiety. Those who are successful in losing weight and keeping it off have learned to drink plenty of water or other non caloric beverages, but they also consume significant amounts of water in the form of low-fat, high-fiber soups, vegetables, fruits, boiled whole grains, and other volumetric foods. The fiber in these foods holds on to the water and makes these foods more volumetric.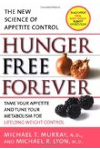 Continue Learning about Weight Loss