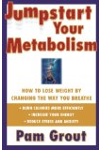 If you've been on the diet path for some time, you've probably heard a term called "set point." It's a theory that explains why diets don't work. The theory is that once you lose weight and give up your diet, your body will automatically return to the weight where it feels most comfortable. This theory is, for the most part, true. Diets are temporary fixes.
If you want to permanently change your weight, you have to permanently change the way your body works. Give it a new "set point." I don't know about you, but if I had the choice of going on a diet with all its deprivation, guilt, and grapefruit or changing my body's chemistry so I didn't need to go on a diet, I'd pick the latter.
Learning to properly breathe is about transforming your body, about changing your chemistry. By fully oxygenating your body, you can literally change your cellular structure at a very deep level. Which means you won't ever have to worry about fat grams at breakfast again.