Weight loss is different for men and women, but body mass index (BMI) is a more important factor regardless of gender. Learn more in this video with surgeon Dmytro Havaleshko, MD from Portsmouth Regional Hospital.
Most men typically do lose weight faster than women. The reason for this is simply a higher metabolic rate (in most cases) due to larger amounts of muscle and overall higher body weight. What this translates to is a higher demand for energy (calories). With this higher demand men typically have more room to cut calories thereby creating a higher degree of weight loss. For example a 130 lb. female with a metabolic rate of 1800 calories per day would typically cut her calories to around 1200 producing just over a pound of real fat loss per week. A 200 lb. male with a metabolic rate of 2800 calories per day could cut without too much discomfort his calories to 2000 calories per day thereby creating a deficit of 800 calories per day or an additional 200 calories per day more than the female in the above example. This additional 200 calories of deficit per day translates to 6000 additional calories per month of deficit which is roughly an additional two pounds of weight loss on top of the pound per week both were already losing. Both male and female are in deficit in the above example both are probably feeling that deficit to one degree or another but the man loses an additional two pounds per month. While his deficit is technically greater, his much higher metabolic rate is allowing for more room to cut calories and this produces the faster weight loss results.
Men may appear to lose weight faster than women at first, but over the long run things balance out. Men tend to have more muscle mass and undergo fewer hormonal changes, which allows for an easier burn-off of those first few pounds. Research shows, however, that over time weight loss evens out between the sexes so long as you stick to a healthy diet and exercise routine. Remember, healthy results don't matter over a week or even a month -- they really add up and matter over the years.
Continue Learning about Weight Loss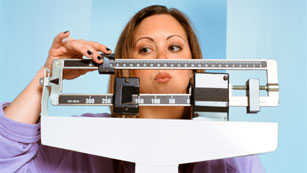 You know that to lose weight you need to burn more calories than you take in. There are only two ways to do this: reduce the number of calories you take in or increase the amount of calories you burn each day. Once you learn to do ...
this, it will be easier to maintain your weight.
More