At the end of your rope? There's hope. And who can't relate to another yo-yo diet? That's why my challenge to you is to go a little deeper and try something different - namely get willing to explore the feelings that you overeat over. Do the personal math; what are the costs to the way I feed myself? How many years am I likely to shave from my time on Earth because of my sideways relationship with food?
In my work with those who need to change their food story, I say you must:
Eat differently
Clean house emotionally
The first will help you regain a balance to your eating; establishing a new normal for your mind, body and spirit as it relates to food while the second will enable you to keep the weight off for good.
No at all. Instead of dieting, you need to focus on how well your body processes food. Instead of working to decrease calories coming in, we need to focus on how we can influence calories going out. In other words, quit dieting and work to better process the food you eat.
Our goal is to change the body from the inside out. Here's the good news. Your body is a nonstop janitor. In its never-ending pursuit of health, it continuously cleanses itself of unnecessary wastes. The faster your body is able to eliminate dead cells, worn-out blood proteins, old tissues, and various other metabolic wastes, the healthier you are. This job is a piece of cake when you're breathing up to par, but when you're not getting enough oxygen, your body is unable to eliminate the toxins as fast as it's supposed to. Remember 70 percent of all wastes are processed through your breathing. And when you don't get rid of the toxins, you gradually accumulate extra waste and, hey, it has to go somewhere. Your body has little choice but to deposit those wastes in fat cells.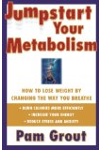 Continue Learning about Weight Loss