Unexplained weight loss may be a sign of many diseases, such as small intestine cancer, or none at all. You may have recently changed your diet or your exercise routine without being fully aware of it, or your body chemistry may simply be changing as you age. If the weight loss is very great, you are under the proper weight for your height, you also feel abdominal pain, or you feel tired all the time, consult your doctor. Only your doctor can make a diagnosis and determine a course of treatment.
Unexplained weight loss can be a warning sign of a malabsorptive issue such as celiac disease, thyroid issues, depression, and even cancer. A careful review of caloric intake versus usage should be done prior to considering any of the above diagnoses to ensure you are not short on your nutritional demands. You should see your physician for further evaluation and a workup.
Continue Learning about Weight Loss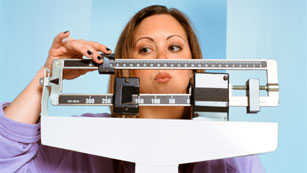 You know that to lose weight you need to burn more calories than you take in. There are only two ways to do this: reduce the number of calories you take in or increase the amount of calories you burn each day. Once you learn to do ...
this, it will be easier to maintain your weight.
More