Unfortunately, you can't lose weight in one specific area (spot-training). We all have problem areas that have us cursing our genetics or wishing we hadn't eaten that second helping last night at dinner. The body dictates where it wants to burn fat first. Don't give up though! While it may take more time, there is no limit to how much fat your body can burn; it's just energy. You will have to be strict with your nutrition and make sure that you keep your body in an energy deficit.
Continue Learning about Weight Loss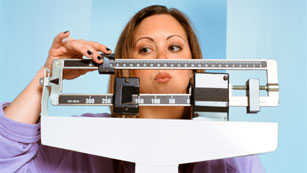 You know that to lose weight you need to burn more calories than you take in. There are only two ways to do this: reduce the number of calories you take in or increase the amount of calories you burn each day. Once you learn to do ...
this, it will be easier to maintain your weight.
More