In weight loss adjustment is very important. Making adjustments to your schedule and life habits and how you go about your daily life are important to make weight loss a successful habit. For these habits to become permanent they need to become an automatic habit which takes time. When eating healthy and exercising feel normal and are now habit, long term weight loss will be the result.
Whether it's at work, in school, or with sports, we praise the hard workers. If you bust your tail with hustle and sweat, then I'll want you to proceed immediately to the pedestal. You may not always score the promotion, the dean's list, or the championship, but, as a society, we place more value on effort than just about anything else (except maybe a 7:00 a.m. cup of Starbucks).

It's too bad that's the very reason why our societal waistband has exploded to the size of Saturn's rings. We expect that a little of X (hard work) and a lot of Y (suffering) should automatically lead to the promised land of Z (skinny waist). But our bodies don't work that way. In fact, you can't win the battle over waist size with do-or-diet effort: The harder you try to diet (with deprivation, with willpower, with the sheer stubbornness to avoid pork rinds), the more likely it is that you'll drown in an industrial-sized jar of marshmallow fluff.

No matter what your plan, you should know by now that waist management isn't about hustle. It's about these two things:

Automation. The first thing you need to do is to stop trying—and start living. Normally. Automatically. Intelligently. You can do that by re-programming your body so that your decisions, food choices, and lifestyle become an enjoyable, invigorating, energizing routine, not a burden.

Adjustment. To make the transition from a thick waist to a thin one, you also have to acknowledge that waist management isn't a success-or-failure proposition. It's a journey with some side streets, dead ends, and a few metaphorical and literal forks in the road. That's why you must build in psychological and behavioral actions that will help you develop routines to help you go from sidetracked to on-track. You need to know that it's okay to face obstacles, and it's okay that, sometimes, they'll pound you square in the mouth. As long as you know the way back to the right road and can make you-turns quicker than a mouse darts from a cat, then you can plan for a lifetime of successful waist management.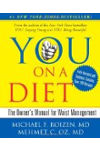 Continue Learning about Weight Loss