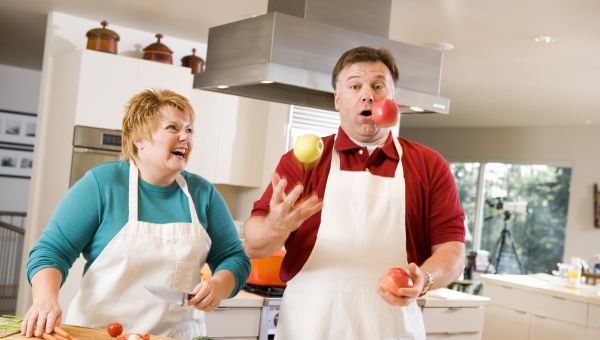 If your fantasy diet motto is, "Start slowly, then chill out," you are SO smart. Skipping boot camp workouts and dramatic calorie slashing could get you newly-slim hips and a trim waistline by the time the next American Idol is picked.
That's because severe calorie cutbacks and high-octane exercise drills put your body into a panic. In fact, if you'd been part of one study, 3 weeks of frantic dieting would have increased your stress hormones, hunger hormones, and binges on high-fat foods . . . but decreased your physical activity. These instinctive calorie-hoarding responses helped your prehistoric ancestors survive famines . . . but they send you cruising for glazed crullers and looking for excuses to skip your spin class. All because your body's petrified of starving. So outwit it.
Never go hungry. Just make eating small portions of high-nutrient, low-calorie foods ultra easy. Keep a stash of good-for-you emergency foods on hand: salad fixings, precut fruits and veggies, 100% whole-grain crackers, instant oatmeal. If you start feeling ravenous and deprived, you'll soon be hunting for apple pie a la mode. Here are 4 smart ways to lose belly fat.
Cement a no-matter-what exercise habit. How? Begin by walking (or biking, swimming, dancing—whatever you really enjoy) for an extra 30 minutes a day. Do nothing more out of the norm for a solid month (no strength training, power yoga, extra stepping—nothing, unless you do it already). By then, this easy start-up plan will have become a rock-hard habit.
Blow off steam. Sure, going on a diet is stressful. So boost your odds of success by increasing levels of stress-busting, brain-friendly nitric oxide. How's that? Just do a few minutes of deep, slow belly breathing every day. And start shopping for smaller belts.
Medically reviewed in September 2019.