An important part of weight loss if you are addicted to food is using a food journal. A food journal brings self awareness to why you are eating and makes you more accountable to yourself for the food that you eat. Include what, when, where and why of every bite and drink that you put in your mouth. Secondly, seek out a support network of people to help you stay away from using food for emotional reasons.
Strive for enjoyable physical activity daily of weight resistance and breaking a sweat of at least 30 minutes, physician permitting to lose weight. Long term healthy weight maintenance for vitality and to prevent chronic disease is best achieved with a steady nutrient dense diet plan including whole grains, fruits, vegetables, healthy fats such as olive oil, proteins including lean meat, nuts, legumes, beans, soy or dairy and reduced saturated fat, sodium and sugar.
Continue Learning about Weight Loss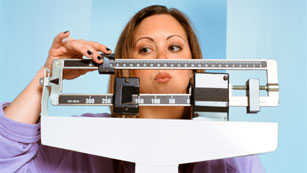 You know that to lose weight you need to burn more calories than you take in. There are only two ways to do this: reduce the number of calories you take in or increase the amount of calories you burn each day. Once you learn to do ...
this, it will be easier to maintain your weight.
More