It's so difficult to convince people that if they eat more often and exercise, rather than starve themselves, they'll lose weight permanently. The overweight world logically thinks that if they starve they will lose weight. Most health experts believe that the yo-yo dieting cycle actually puts the body into starvation mode and weight loss becomes more difficult. The body conserves calories to protect it from starvation. The next time you diet your body will be conserving calories to stay alive and weight loss will be even more difficult.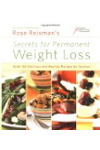 Continue Learning about Weight Loss Strategies

Everyone has opinions on how to lose weight – everything from Pilates to supplements to sleeping sans pajamas has been touted as an effective weight loss strategy. It's all about discovering what works for you. For some people, th...
e community support found on social media or in support groups for weight loss is an effective tool, while others benefit from the tried and true method of working up a daily sweat. Whatever strategy you choose, the key is finding something that you can stick with that works for your lifestyle.
More