Planning meals ahead will greatly help your dieting efforts. There are several reasons why. First, planning ahead keeps you conscious of your eating habits, and keeps you motivated towards your goal. Second, it makes it easier to follow through when you are not faced with the need to make a choice in the moment. Often we make unhealthy choices when hungry. If you plan ahead you are better equipped to make the right choice. Third, planning ahead ensures that your diet stays within the weight loss calorie range you need to be in order to lose weight.
When you plan what to eat for the day, you eliminate the option of imagining and fantasizing about other foods, so desires for those foods aren't created. You also eliminate desire for what you are going to eat. If you know what you're going to eat, there's nothing to desire.

Food planning can help you jump-start pragmatic thinking and put the kibosh on romantic food thoughts. If you stop thinking about food romantically, your relationship with it will change and so will your weight. You can change your romantic relationship with food by learning not to think about it or to think about it pragmatically.

If you have a food plan and you find yourself thinking about food that's not on it, turn away from those thoughts. If you have a set menu for the day, there's no room for food fantasies, only for functional thoughts like "Okay, these are the two options and this one makes sense." This way of thinking about food frees up your mind for other pursuits. It also becomes easier the more you do it. When you find yourself starting to fantasize about a food, stick to your thought diet and focus on something else.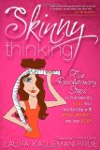 From failing to plan meals for a busy day to not having healthy items on hand for hectic schedules, we sabotage our own good efforts. So if we are going to make a lasting transformation in our health, we must take control of our schedules and this begins with having a plan. You've heard that it is best to eat 5 or 6 small meals and snacks each day, so if you are to be successful at boosting your metabolism, you must create a strategy for having good food on hand.
You may need to go to the grocery store once or twice each week to replenish your supply but it's worth the trip. Begin to think about the types of snacks you can keep in your desk or refrigerator at work, your purse or briefcase at all times such as whole fruit, a bag of unsalted nuts, whole granola, yogurt cups, etc. We don't accept excuses from our children for why they don't have time to take out the trash or empty the dishwasher (both 2-5 minute tasks) so how can we allow ourselves the same lame excuses? You may want to create a weekly menu that stays on the refrigerator to keep you on track.
Continue Learning about Weight Loss Strategies