Thinking of food as a reward is only a problem if you reward yourself too much. When there's no parent there to say, "Hey, honey, you've had enough cookies," the ego's Child (pleasure-seeking impulses) says, "Whoopee! There's nobody here to stop me, so I can have as many cookies as I want." But every Child needs a parent.

Just because you're grown and there isn't an adult telling you when to stop doesn't mean you can eat whatever you want and not pay a price. If you want to permanently solve your weight and food issues, you need to develop the adult inside of you, or that Child's just going to keep chasing after the treats.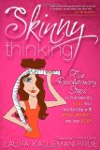 Continue Learning about Weight Loss Strategies

Everyone has opinions on how to lose weight – everything from Pilates to supplements to sleeping sans pajamas has been touted as an effective weight loss strategy. It's all about discovering what works for you. For some people, th...
e community support found on social media or in support groups for weight loss is an effective tool, while others benefit from the tried and true method of working up a daily sweat. Whatever strategy you choose, the key is finding something that you can stick with that works for your lifestyle.
More