Kitchari, pronounced kich-ah-ree and sometimes spelled khichadi or khichdi, a classic Indian dish, has long been used to nourish babies and the elderly, the sick, and the healthy.
A simple, porridge-like blend of beans and rice, kitchari is often referred to as the Indian comfort food. But perhaps contrary to the Western idea of comfort food or even health food, kitchari has many nourishing and cleansing benefits. This recipe makes enough to last you for three or four meals. You can play with the mixture of spices. Many people prefer this recipe when the spices are doubled (or even tripled).
Ingredients:
1 cup Split Yellow Mung Beans* (see for 'weak digestion' below)
1 cup White Basmati Rice
1 Tbs Fresh Ginger Root
1 tsp each Black Mustard Seeds, and Cumin and Turmeric powder
½ tsp each Coriander powder, and fennel and fenugreek seeds
3 Cloves
3 Bay Leaves
7-10 cups Water
½ tsp Salt (rock salt is best) or Bragg's Liquid Aminos.
1 small handful Fresh Chopped Cilantro Leaves
It's important to get SPLIT MUNG DAL beans because they are easy to digest. They are available at Asian or Indian grocery stores. Different spellings include mung and/or dahl. Please note that you do not want the whole mung dal beans, which are green, or yellow split peas.
Directions:
Wash split yellow mung beans (dahl) and rice together until water runs clear.
Heat a large pot on medium heat and then add all the spices (except the bay leaves) and dry roast for a few minutes. This dry-roasting will enhance the flavor.
Add dahl and rice and stir again.
Add water and bay leaves and bring to a boil.
Boil for 10 minutes.
Turn heat to low, cover pot and continue to cook until dahl and rice become soft (about 30-40 minutes).
The cilantro leaves can be added just before serving.
Add salt or Bragg's to taste.
* For weak digestion, gas or bloating: Before starting to prepare the kitchari, first par boil the split mung dahl (cover with water and bring to boil), drain, and rinse. Repeat 2-3 times. OR, soak beans overnight and then drain. Cook as directed.
Dr. Fuhrman's Famous Anti-Cancer Soup
Serves: 10

Ingredients
1 cup dried split peas and/or beans
4 cups water
6-10 medium zucchini
5 pounds carrots, juiced (5-6 cups juice; see note)*
2 bunches celery, juiced (2 cups juice; see note)*
2 tablespoons Dr. Fuhrman's VegiZest* or Mrs. Dash no-salt seasoning
4 medium onions, chopped
3 leek stalks, coarsely chopped
2 bunches kale, collard greens or other greens, tough stems and center ribs removed and leaves chopped
1 cup raw cashews
2 1/2 cups fresh mushrooms (shiitake, cremini and/or white), chopped

Directions
Place the beans and water in a very large pot over low heat. Bring to a boil, reduce heat and simmer. Add the zucchini whole to the pot. Add the carrot juice, celery juice and VegiZest.
Put the onions, leeks and kale in a blender and blend with a little bit of the soup liquid. Pour this mixture into the soup pot. Remove the softened zucchini with tongs and blend them in the blender with the cashews until creamy. Pour this mixture back into the soup pot. Add the mushrooms and continue to simmer until the beans are soft, about 2 hours total cooking time.

* Freshly juiced organic carrots and celery will maximize the flavor of this soup.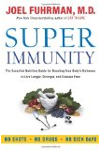 White bean soup is a hearty and healthy option. To make it, in a large saucepan, cook 1 medium onion chopped and 2 gloves of garlic about 5 minutes or until onion is tender. Stir in 1 can (14.5 oz) salt-added diced tomatoes, not drained, 1 & 3/4 cups Progresso reduced-sodium chicken broth, 1 teaspoon of dried thyme crushed, and 1/8 teaspoon black pepper. Bring to boil then reduce heat. Cover and simmer for 20 minutes. Remove from heat. Mash 1 can, (15 oz) no-salt-added white kidney beans, rinsed and drained, with the back of a wooden spoon. Stir in 3 cups baby spinach leaves. Cover and let stand for 1 minute to wilt spinach. This recipe makes 1 serving and has 120 calories and 3.5grams of fat.

Continue Learning about Weight Loss Strategies