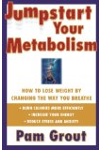 If you want to lose weight, you can do it by pumping up your breathing. It's not hard. It's not demanding. And you don't even have to touch your toes. In fact, you are going to feel so much better after you start breathing properly that you won't even be tempted to return to old patterns of futile breathing.

Unlike diets that require self-sacrifice, mental angst, and calculators to tally calories and fat grams, this plan is something you'll actually look forward to doing.

If you correct futile breathing patterns, you will lose weight. It doesn't matter if you are ten pounds overweight or a hundred pounds overweight. I can guarantee that if you pump up your breathing, your health will improve and that physique that you're constantly carping about will shape up. If you practice the right breathing exercises, your body will automatically kick into a higher metabolism, your energy level will explode, and you can kiss your weight problem good-bye.