Cookbooks for preparing low fat meals are:
-1000 Low Fat, Salt, Sugar & Cholesterol Recipes to Tempt Your Tastebuds. As of this writing, I have been through about 150 of the recipes.
-The New Soul Food Cookbook for People with Diabetes by Fabiola Demps Gaines and Roniece Weaver. I always wanted to write a book like this. I may not have to. Fabiola and Roniece's recipes are easy to prepare and do not require you to go to some specialty store for ingredients. The authors provide the American Diabetes Association's food-exchange guidelines for each dish. I'm also partial to the book because Fabiola looks like one of my aunties.
-The Diabetic's Healthy Exchanges Cookbook by JoAnna M. Lund. "Real food for people living in the real world with diabetes" is the book's tagline. Real true!
-The Healing Foods: The Ultimate Authority on the Creative Power of Nutrition by Patricia Hausman and Judith Benn Hurley. I picked up this book after I moved to L.A. and before I was diagnosed with diabetes. What drew me to the book was my desire to glean information to pass on to my family in Cleveland. They ignored the information. But no good thing ever goes to waste: the book really helped me. Through it, I became convinced that cures for many ailments can be found in plants and root things.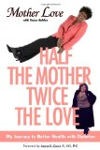 Continue Learning about Weight Loss Strategies

Everyone has opinions on how to lose weight – everything from Pilates to supplements to sleeping sans pajamas has been touted as an effective weight loss strategy. It's all about discovering what works for you. For some people, th...
e community support found on social media or in support groups for weight loss is an effective tool, while others benefit from the tried and true method of working up a daily sweat. Whatever strategy you choose, the key is finding something that you can stick with that works for your lifestyle.
More