The gaunt and skeletal body type we see in fashion magazines is not attainable -- or even desirable -- for almost all of us. Instead, you should be the right weight for you. Your aim should be to keep your weight as close to what it was at age eighteen for women or twenty-one for men. Having a low and stable body mass index -- or weight-to-height ratio -- is one of the things that will help keep you young. Animal studies show that restricting calorie intake not only promotes weight loss but seems also to increase longevity. For example, mice fed a low-calorie, low-fat diet live considerably longer than mice that eat more. The most important thing is to avoid yo-yo weight loss and gain, which is worse for you than simply being overweight. We don't know why, but the data repeatedly confirm that this is so.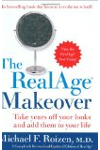 Continue Learning about Weight Guidelines

People ask all the time when they begin weight loss, "How much weight is okay to lose?" Unfortunately, there's not one blanket answer for everyone. Factors like your body mass index (BMI) and metabolic rate all factor into determi...
ning what your healthy weight loss number should be.
More