You need to lose fat if you're overweight according to the height/weight tables, with these additional considerations:
If you are sedentary
If you know you are not particularly muscular
If the bulges over your belt are unmistakable
If you have a health condition that's associated with obesity: hypertension, diabetes, high cholesterol, arthritis or other joint problems, or any symptom associated with cardiovascular disease
If you have a family history of any of the chronic diseases mentioned above
If you smoke, drink more than two alcoholic drinks a day, or spend much of your time under stressful conditions. A system already stressed by cigarette smoking, drinking, or chronic aggravations will do better if it's not under the added stress of excess body weight.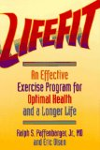 Continue Learning about Weight Guidelines

People ask all the time when they begin weight loss, "How much weight is okay to lose?" Unfortunately, there's not one blanket answer for everyone. Factors like your body mass index (BMI) and metabolic rate all factor into determi...
ning what your healthy weight loss number should be.
More