Essentially, healthy eating for a healthy weight can be boiled down to the following:
Eating the right kinds of foods -- foods with maximum amounts of healthy nutrients and minimal amounts of added sugar and solid fat.
Eating the right amounts of these foods, with choices from each of the five food groups -- in other words, meals that are planned and balanced.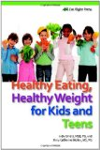 Continue Learning about Weight Guidelines

People ask all the time when they begin weight loss, "How much weight is okay to lose?" Unfortunately, there's not one blanket answer for everyone. Factors like your body mass index (BMI) and metabolic rate all factor into determi...
ning what your healthy weight loss number should be.
More