A strong core, thighs, and glutes are important for surfing. However, it is important to train all the major muscle groups because the body functions as a unit, and surfing is a total-body sport. To train the core, perform exercises like prone iso-abs, or plank. To perform the prone-iso abs, or plank, lie on your stomach with the elbows under the shoulders and the forearms on the ground. Lift your body up until you are in a flat back position, hold for 2 seconds, and then return to the ground. Complete 1-2 sets of 15 repetitions using a slow tempo. To work the thighs and glutes perform bar squats and lunges for 1-3 sets of 12-20 repetitions using a slow tempo and lighter weights. Rest for 45 seconds between sets.

Continue Learning about Watersports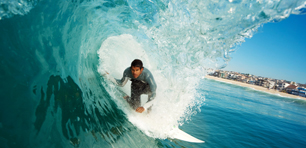 Watersports (surfing, rowing, canoeing) rely on muscular strength, endurance, and resistance training. Conditioning is important because these sports cause the body to expend a vast amount of energy. Watersports help burn calories ...
and improve cardio strength.
More