It is important to have good posture and to strengthen the rotator cuff muscles to help prevent shoulder injuries. You can achieve these goals with a combination of flexibility and strengthening exercises. Start by foam rolling the lats, or latissimus dorsi, and middle back area for 30 seconds. Foam rolling is a self-massage technique in which pressure is applied with a foam roller to tight areas of a muscle. This breaks up adhesions, or "knots", in the muscle and relaxes the muscle to allow for greater range of motion. Once you have foam rolled the lats and mid-back, perform 1-3 sets of 30-second static stretches for the lats and chest. To stretch the lats, begin on the floor on the hands and knees. Using a stability ball, place one arm extended with the thumb up on the ball. Slowly lower your torso until you feel the stretch develop in the back. To perform the chest stretch, use the same starting position as the lat stretch, except place the ball to the side. Lie your arm on the ball with the palm facing down. Lower your torso until you feel the stretch in the chest and shoulder and hold the position. After you have completed the flexibility techniques, you can perform exercises to strengthen the rotator cuff and the muscles that retract/depress the shoulder blades. For example, you can perform 2 sets of 10 slow tempo repetitions of band internal rotations, band external rotations, and floor cobra exercise. To perform the band internal rotations, hold a light resistance band at waist-height with your upper arm against your body and your elbow bent at a 90-degree angle. Pull the resistance band into the stomach area keeping the elbow at the side. For the external rotation, begin in the same starting position, but pull the handle away from the body. To perform the floor cobra, lie face down with the head in a neutral position and bring the arms back. Rotate the hands so that the thumbs are up and then squeeze the butt, lower back, and middle back to lift your chest off the ground. Hold this position for 2 seconds before returning your upper body to the ground.
Continue Learning about Watersports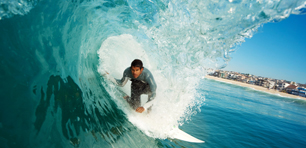 Watersports (surfing, rowing, canoeing) rely on muscular strength, endurance, and resistance training. Conditioning is important because these sports cause the body to expend a vast amount of energy. Watersports help burn calories ...
and improve cardio strength.
More