Use a speed ladder to perform drills like jumping jacks and out-out-in-in to improve your agility for skiing. To perform the speed ladder jumping jacks, start by jumping inside the speed ladder, then outside and forward, and back inside again similar to jumping jacks. To perform the out-out-in-in, start with both feet in the first box of the ladder and step out first with the left, then the right foot. Next, step back inside the next box, again with the left foot followed by the right until you work your way down the ladder. Perform 2-4 sets using a half speed ladder and rest 60 seconds between sets.

Continue Learning about Watersports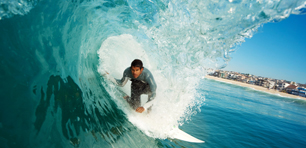 Watersports (surfing, rowing, canoeing) rely on muscular strength, endurance, and resistance training. Conditioning is important because these sports cause the body to expend a vast amount of energy. Watersports help burn calories ...
and improve cardio strength.
More