Cross-country -- or Nordic -- skiers and rowers are considered by many to be the best endurance athletes in the world; the highest oxygen uptakes (a measure of endurance) ever recorded were found among cross-country skiers, for example.
There's no pounding associated with either rowing or Nordic skiing, thus both are excellent for anyone just starting out, anyone who is overweight and bothered by the pounding of walking or jogging, or anyone who is troubled by injuries. Both activities develop the entire body, working the major muscles of the legs, upper back, shoulders, and arms, and both develop strength and endurance.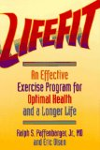 Cross-country skiing is a great form of exercise. The impact is light on your body, plenty of upper and lower body strength is required, and you get to enjoy nature, and the snow, as long as you enjoy snow! This form of exercise requires balance which will engage your lower body to keep you active and feel a good burn! Your upper body, backs, shoulders triceps, and chest will all work to help push your body along. Again, plenty is being used and the benefit is great!
Rowing, you cannot go wrong with rowing. My only negativity, it can be boring. However, the boredom is only indoors but outdoor rowing is great! Rowing will work the entire upper and lower body. This form of exercise is the lightest form of impact on your lower body! You cannot go wrong with rowing. Be sure to keep yourself challenged and have fun!
Continue Learning about Watersports