Advanced exercises to help with tricks include depth jumps and side to side hops. Plyometric exercise, or jump training, simulates the demands of tricks and teaches your body to cope with impact. For advanced level plyometic exercise use the following acute variables: 2-3 sets of 8-12 repetitions of 1-2 exercises with an explosive tempo. Rest 30 seconds between sets. To perform depth jumps, begin by standing on a box and stepping off of the box. Land by squatting to absorb the impact and then quickly jump up. To perform side to side hops, stay light on your feet and quickly move the lower body back and forth keeping the upper body stable just as you do when snow skiing. Focus on your technique by thinking of a top spinning - the bottom moves but the top part stays more stable. For both exercises make sure you engage the core by drawing-in the stomach, keeping the feet straight, and keeping the knees in line with the tip of the shoes. Advanced plyometric exercises will improve how fast you produce force, your landing strength, and the efficiency of your movements.
Continue Learning about Watersports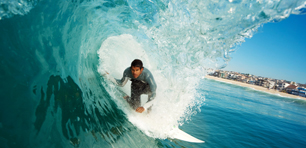 Watersports (surfing, rowing, canoeing) rely on muscular strength, endurance, and resistance training. Conditioning is important because these sports cause the body to expend a vast amount of energy. Watersports help burn calories ...
and improve cardio strength.
More