The water polo shot is a total-body movement requiring a powerful egg-beater kick to get out of the water, torso rotation, and chest and shoulder strength to throw the ball. To help generate power use the following acute variables: 3-5 supersets of 1-5 repetitionss of strength exercises supersetted with 8-10 repetitions of power exercises using a fast tempo and 3 minutes of rest between supersets. Good exercises to increase lower-body power include 5 sets of 5 repetitions of bar squats supersetted with 5 jump lunges per side. To perform the jump lunges, start in the bottom of a lunge position and then explosively jump in the air. Land softly in the lunge position and repeat the movement. For the chest, shoulders, and torso rotation perform 5 sets of 5 repetitions of dumbbell bench press supersetted with 10 medicine ball rotational chest passes. To perform the medicine ball rotational chest pass, stand with the feet hip-width apart holding a medicine ball at chest height. Quickly turn and pivot the foot opposite of the side you are turning to. Once your upper body is turned to the side, explosively push/throw the ball against a wall or to a partner. Training with these exercises will allow you to get higher out of the water and generate more power for the throw.
Continue Learning about Watersports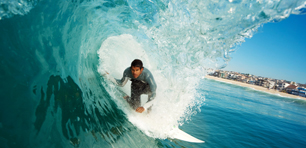 Watersports (surfing, rowing, canoeing) rely on muscular strength, endurance, and resistance training. Conditioning is important because these sports cause the body to expend a vast amount of energy. Watersports help burn calories ...
and improve cardio strength.
More