It is important to have strong core muscles, thighs, lats, and biceps as these are essential to the rowing motion. However, It is important to train all the major muscle groups because the body works as a unit and not as individual muscles in isolation. Good exercise choices to work these muscles include the floor cobra, bar squats, low cable rows, and biceps curls. To perform the floor cobra, lie face down with the head in a neutral position and bring the arms back. Rotate the hands so that the thumbs are up and then squeeze the butt, lower back, and middle back to lift your chest off the ground. Perform 2 sets of 15 repetitions with a slow tempo for this exercise. For the other exercises, start with 1-3 sets of 12-20 repetitions done with a slow tempo, and rest for 30 seconds between sets.

Continue Learning about Watersports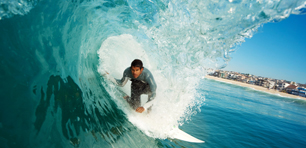 Watersports (surfing, rowing, canoeing) rely on muscular strength, endurance, and resistance training. Conditioning is important because these sports cause the body to expend a vast amount of energy. Watersports help burn calories ...
and improve cardio strength.
More