To improve strength for water polo, perform weight training that pairs a stable strength exercise using medium resistance with a stability exercise using light resistance in a superset. You can make this type of training most effective by completing 2-4 supersets of 8-12 repetitions using a medium tempo for the strength exercise and a slow tempo for the stability exercise; rest for 45 seconds after completing each superset. Example superset exercises include 2 sets of 10 repetitions of bar squats supersetted with walking lunges followed by seated cable rows supersetted with single-leg single-arm dumbbell rows. To perform the single-leg single-arm dumbbell rows, stand on one foot with the other foot lifted and floating next to the foot on the ground. Bend over until the torso is almost parallel to the ground and engage the core by drawing in stomach. Hold the dumbbell on the same side as the foot that is lifted and perform a row exercise with a slow tempo, holding at the top for 2 seconds. Complete the desired number of repetitions and repeat the movement with the opposite side.
Continue Learning about Watersports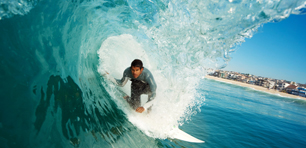 Watersports (surfing, rowing, canoeing) rely on muscular strength, endurance, and resistance training. Conditioning is important because these sports cause the body to expend a vast amount of energy. Watersports help burn calories ...
and improve cardio strength.
More